"April is the cruelest month, breeding

lilacs out of the dead land, mixing

memory and desire, stirring

dull roots with spring rain."

― T.S. Eliot, The Waste Land
Last autumn, the Norwegian Library Association celebrated its 100th anniversary. Around the same time Crown Princess Mette-Marit got the idea to put together a literature train, literally.
I want to inspire people to read more! And I want to put the focus on how important libraries are in our society.




Crown Princess Mette-Marit.


Together with the Norwegian railroad company and the librarians at Deichman municipal library in Oslo she pulled together a project of a literary train ride through parts of northern/mid-Norway.
The thought behind the Literature train is that people shall be able to join in and share reading experiences that have meant something for them in life. At every station children, young adults or adults can come and tell about important experiences they have had while they have been reading. I look forward to that.



A special wagon for the train was designed by NSB to be the library and there would be a book café.
The librarians at Deichman had packed together all the books; they were ready to be picked up by the Court. Then came the information: Crown Princess Mette-Marit had been put on sick leave and the train ride was cancelled.
After the sick leave was over, and 2014 had started, the plans picked up again.
The Crown Princess attended a literary event in the beginning of February at the Literature House in Oslo, and was asked to show which books she had on her bedside table.
På @foreningenles lansering av Faktafyk ble jeg spurt hvilke bøker jeg har på nattbordet #knertenanneg&roth pic.twitter.com/A3v4u3V0EN




— HRH Mette-Marit (@CrownPrincessMM) February 5, 2014
In the past week, in the beginning of April, the train ride took place. The librarian at Deichman showed off the packed crates.
Bøker i farta! @CrownPrincessMM sine bokfavoritter er klar for å reise med #litteraturtoget #minbok @deichmanske pic.twitter.com/0WO5DX86YZ




— Marie Johansen (@johansen_marie) March 20, 2014
It had been agreed that it would be the easiest to coordinate if one library took responsibility for stocking the library car. In Norway the National Lending Card lets you check out books from the majority of libraries, not just your local one, and return them from whichever library you would like. So the books borrowed on the train from Deichman library (practically in Oslo) could be returned on the local libraries which would ship them back to Deichman.
The reading campaign started with the hashtag #minbok (mybook) on Twitter. People were encouraged to share their book memories and recommendations there. Mette-Marit showed off the reading and work that she was doing at home to select the books that she thought should be a part of the train.
Et litteraturtog blir til… #minbok pic.twitter.com/fi9ehWPA20




— HRH Mette-Marit (@CrownPrincessMM) March 27, 2014
The collection of books in the train library was partially selected by the Crown Princess, partially by her friends and family, and members of the court – and the librarians at Deichman supplied with more modern children and young adult literature.
Jeg finner forbausende mange titler som tilhører Kristiansand katedralskole. #minbok ? pic.twitter.com/HrrgT1z41H— HRH Mette-Marit (@CrownPrincessMM) March 27, 2014
"I find surprisingly many titles belonging to Kristiansand Cathedral School." – (Mette-Marit graduated from that school in 1994.)
Before the train started, the Crown Princess was interviewed by NRK through Twitter – probably one of the first royals, if not the first, to conduct an entire interview through the medium. The whole interview was put together on Storify.
.@NRKbok Jeg hadde lyst å formidle min store leseglede. Jeg er også glad i tog. På tog reiser vi langsomt. Som i bøkene.




— HRH Mette-Marit (@CrownPrincessMM) March 31, 2014
She was asked why she was doing this, and replied: "I wanted to share my joy of reading. I also love trains. On trains we travel slowly, like in the books."
Crown Princess Mette-Marit has been a reader for a long time, and shared some of it through Twitter, and more of it through interviews during the trip.
It becomes personal to share the books that have been important to one. To me it has been nice to take a look back and see who I have become also through the books I have read. Retrospectively you see what have shaped you, and how important some things have been to you, especially in your youth.
The following story rings especially true for me – I'm also frequently walking and reading. Though I haven't yet hit a lamp post while doing it, there have been some near misses.



I was walking and reading while I walked. I remember the feeling that I was so into the story, and walked along, and I walked into a lamp post. I understood then that I had to give up and sit down on a bench to finish the book. It says a bit about my relationship with literature. Once I get into a book, I can be difficult to get a hold of .






The progamme for the train ride.
April 1
April 2
Each station had a theme.


Purpose of the journey – the meaning of literature


Children's literature


Young adult literature – self discovery


Love


Southern Sami language and literature and conversation with three "Twitterliterates"


Literature for breaking taboos – the difficult conversations.


My books – the favourites of the Crown Princess.


Shakespeare – master of language.


The second last point led to a bit of media discussion, when she opened up with talking about her father and his alcoholism and her relationship with him. How reading helped her resolve some of her unresolved feelings.  (GoogleTranslated.)
Afterwards, Mette-Marit got some good feedback from the Norwegian Blue Cross about opening up about her relationship with her father and sharing that he was an alcoholic, thus making it less of a taboo. It was also pointed out that the controlled sharing of information about problematic subjects had been common in the Norwegian royal house for the last decade or so, and that such a thing is less common out in the European royal houses.
During the trip she also shared images of her family reading, and an audio file of her mother reading the same children's story that she used to read to Mette-Marit: Marit Tjessem reading from Knerten og Lillebror by Anne-Cath. Vestly
Det finnes en bokverden for alle. #Litteraturtoget #minbok pic.twitter.com/LDm0x1f61k — HRH Mette-Marit (@CrownPrincessMM) April 2, 2014
"There is a book world for everyone."
There was also time for some Twitter conversation back and forth between the Crown Princess and her husband.
Conversation between Crown Princess Mette-Marit and Crown Prince Haakon on Twitter.
Mette-Marit said that she missed him on the road, and that Richard would be next. The Crown Prince thought that the talk on Richard III would be interesting. And that he wished he was there.
@NRKbok Jeg har et litt spesielt forhold til Richard etter jeg skrev masteroppgaven om ham. — HRH Mette-Marit (@CrownPrincessMM) March 31, 2014
Mette-Marit wrote her master's thesis about Richard III.
One of the reasons I started on Twitter was that I love poetry and wanted to share some of it with others.- Crown Princess Mette-Marit
Instagram: Litteraturtoget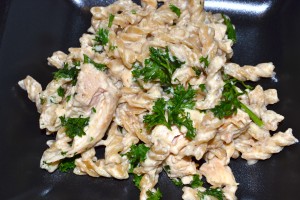 Sometimes I want pasta. Really want pasta. And creaminess, and chicken. This recipe from the Pioneer woman hit the spot. 
Since I am trying (well, sometimes) to be healthier – it is whole wheat pasta instead of regular.
It's the illusion that counts.
I had some pizza dough in the freezer from when I made the Thai Chicken pizza.
I put it in the sink to defrost before I went to work in the morning, and by the time I returned – it was ready to bake.
I rolled it out, and made the toppings ready.
I took inspiration from the Pink Parsley: Bacon, Potato, and Caramelized Onion Pizza.
My version was a bit more touch and go. I added some sweet chill sauce on the base. Then I sliced a couple of potatoes and baked them in the oven for 10 minutes. I sliced an onion into thin strips and put it in a frying pan with a bit of oil and a tbsp of sugar. Caramelizing it soft and brown.
Once all the parts were complete, I assembled the pizza, adding the cheese on top.
I baked it for 30 minutes.
"It's spring fever. That is what the name of it is. And when you've got it, you want—oh, you don't quite know what it is you do want, but it just fairly makes your heart ache, you want it so!"

― Mark Twain
What happens when you replace the music in a festival video with some Benny Hill music?
A few weeks ago I joined in a Twitter conversation. Most of the times, those kind of conversations lead very few places…  However, this one continued on.
After some time planning, back and forth, along with the group of enthusiastic royal watchers, a discussion forum was created.
We came together to create a new forum to discuss royal matters.
Most of us have being following the royal world for years and gathered lots of knowledge about our favourite royals, both current and historical.
While some of us prefer to talk current matters, others like to discuss the history of the royal families of this world. Whatever your favourite, you are very welcome to join in the discussions, ask questions and give answers – We won't judge, we are all royal nerds ourselves.
At the moment it is a bit bare – but come join us, and help fill in the gaps

Check it out: The Royal Resource.
The Nobel Museum in Stockholm actually ended up being one of my favourite museums when I was there. Maybe because I expected it to be a boring and staid museum, like some of the other museums I had been at the day before.
But it isn't.
It's fun. They have their own area for the kids, so they can learn about various things connected to why the Nobel recipients got their awards. They have a room dedicated to Alfred Nobel. They have so much more, and in a very little space.
I really recommend it. And afterwards, stop by the takeaway counter of the hot chocolate shop next to it and take one to go, as you're heading down the streets of the old city.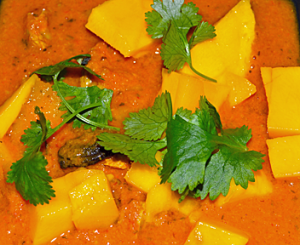 The March Recipe from the BBC GoodFood was this Lamb & Mango Curry. My local store did not have any lamb that wasn't super expensive, so I replaced it with pork. Without any issues.
Minimal work, mostly it "makes itself" in the oven.
The curry actually really needs the mango to be interesting. A small dollop of natural yogurt, sour cream or something similar was a good addition.
It makes enough for six – you can freeze it, but it lasted pretty well in the fridge for three days. (At that point I was tired of eating the same thing for dinner anyway…)